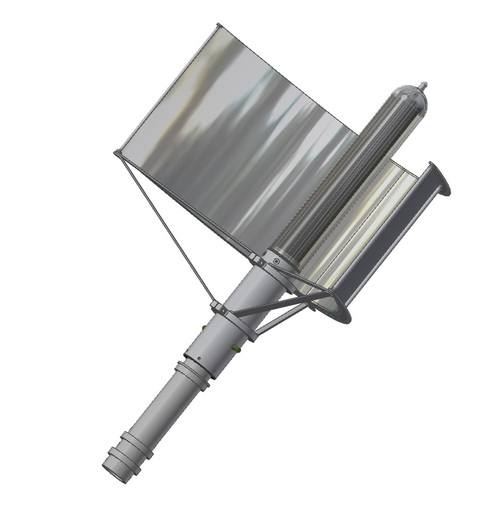 Existing electronic single axis tracker systems suffer from a number of drawbacks, including high purchase, installation, maintenance and operating costs, complicated designs and reliability problems.
Sulas' patented technology addresses these issues by replacing the entire drive and control mechanism used by current electronic based systems with a much simpler and more cost-effective solution. Drawing inspiration from Mother Nature -- heliotropism, or the ability of flowers to follow the sun -- the
HelioDrive
relies on three main components: a parabolic concentrator; a receiver filled with a small amount of engineered paraffin wax that acts as a hydraulic actuator; and a single moving component that translates linear travel into rotational motion, thereby generating a large amount of hydraulic force. As the sun rises and travels east to west, the mechanism automatically causes the connected solar panels to track the sun.
Paraffin wax, one of the key elements used in the
HelioDrive
, has been successfully used for more than a century to dependably and economically maintain equilibrium in closed loop systems. In fact, to this day paraffin wax continues to be used in automotive thermostats to maintain a steady engine temperature in even the most extreme environments. The paraffin wax used in the
HelioDrive
is inexpensive, extremely reliable and requires no maintenance, even over extended periods of time.
The
HelioDrive
operates in a diverse range of environments and conditions, from low desert heat to high mountain cold, and is capable of lifting over 3,000 pounds.
Videos demonstrating the
HelioDrive's
design and operation can be seen
here
.
---